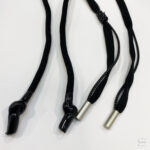 DECORATIVE LACE WITH FINISH – stock
The fashionable laces with finishes that we offer are of top quality, unusual design and represent an effective detail of your clothing item.
PER 05 – shoelace with rubber finish
This shoelace can also be made to order.
The buyer can choose:
• Length of shoelaces
• Lace color according to the catalog
• Metal finish color
• The rubber part can be black or white.
Minimum order 1000 pieces / color.
PER 065
Rubber thin lace with metal finish.
PER 08
Double lace
Lace with rubber finish
PER 35
Under this code we have a large selection of decorative colorful and one-color laces.