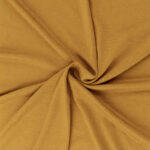 VISCOSE F
VISCOSE F
Composition:
95% viscose
5% lycra
Weight: 220-230g
Width: 180cm
Viscose is a pleasant material, suitable for sensitive skin, resistant to bacteria.
We recommend it, because it does not cause allergic reactions, does not collect mites and does not
generates static electricity. Viscose is air permeable, has a naturally cool and
silky feel, so it is very comfortable to wear, especially in summer.
Although viscose fiber is most often compared to cotton, because it has textile properties
similar to cotton, it is thinner, softer, finer and has a lower degree of stretch.
The application of viscose in the textile industry has a wide range. Viscose is used for
production of clothes and laundry.